Coffee#1
About this store and opening times
Start Veganuary right with Coffee#1
Coffee#1 have lots of delicious options catering for all kinds of dietary requirements. Enjoy 3 plant based milk alternatives this Veganuary. Enjoy- Soya, Coconut, and Oat. Here's a few reasons why you should try one of our plant based milks in your usual coffee soon.

Flavour!
What better reason to try out soya, coconut or oat milk than the new, exciting, and scrumptious flavour they can bring to your brew? We love soya milk in a white hot chocolate, or coconut milk makes one delicious mocha, and an oat milk is fantastic in a flat white. Enjoy testing your own flavour combinations!
Texture!
Some people enjoy the smooth texture of a latte, others the thick foam of a cappuccino, but have you considered the different texture of our plant based milks? Coconut has quite a thin, silky texture; oat is the most similar to whole milk once steamed; and soya can make thick, creamy foam. Why not give one a try and see how you feel about it?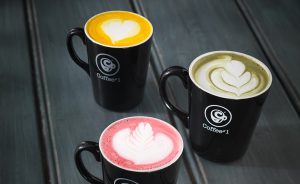 Nutrition!
The health benefits of switching your regular coffee from whole milk to a plant based option are certainly something to consider. The plant based milks Coffee1 have chosen have also been specially selected because they contain as few allergens as possible. There's soya in the soya milk but the coconut and oat milks are allergen free*, making them safe for as many people as possible!

Pop into try one for yourself!